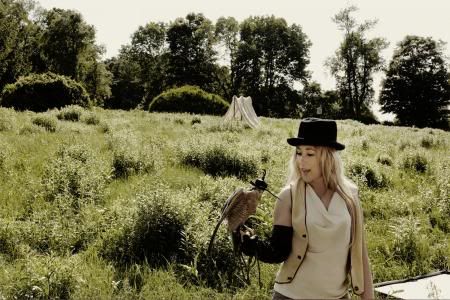 White Plains, NY – Singer/songwriter/guitarist Anna Rose returns to her native Westchester on Thursday, August 19, 2010 at 7:30PM for a one night only rock benefit concert with The August Infinity supporting the Music Conservatory of Westchester. Presented by Jon Chattman's thecheappop.com, the event opens with stand-up comedian and actor Dante Mercadante (of Yonkers) and features original rock music. The concert will raise funds for the Conservatory's scholarships and tuition assistance programs.

Anna Rose was born in Manhattan, raised in Northern Westchester, and lived for several years in Los Angeles before returning to New York. During her twenty-four years as a "rock kid," there have been great passions in Anna Rose's life, and then there has been music. "More than anything, I have always straight-up just totally and truthfully loved it," she says. Her songs concentrate on contrasts between people, places, emotions, and several thousand other things in ways that are as carefully considered as they sound completely organic.

Anna Rose bases her music in the classic rock of '60s and '70s California, yet re-routes it into new explorations all her own. Her debut full-length album, "Nomad," is a collection of 12 original songs released in June 2010, which follows her well-received 2009 EP, "Anna Rose." Recorded in New York, Nomad was produced by Billy Sullivan and Anna Rose, with Executive Producer Bruce Botnick, who produced the '60s bands Love and The Doors. "Nomad" makes a singular impression of a female singer-songwriter imagining with fresh new verve the great rock and roll tradition of high craft and liberated spirit.

Too hard to be considered pop, but way too pop to be considered hard rock, The August Infinity has gained a following playing NYC hotspots such as The Gramercy Theater, Santos Party House, and Fox's Fearless TV. Band members Joshua Hawksley (vocals), Frank Grullon (guitar), Peter Strzelecki (guitar), Chris Moss (bass), and Ian Pierce (drums) released their well-received debut album, "Voices of a Generation," in October 2009. They maintain an active tour schedule throughout the region and have begun work on their next release, slated for the fall of
2010.

"In a summer filled with weightless bubble gum pop, Anna Rose's music is so refreshing — beautifully honest and polished," said Jon Chattman, founder of thecheappop.com and the Conservatory's Director of Communications. "The August Infinity, similarly, are artists in their own right that are poised to break out this year."

The August Infinity has been featured on Sirius XM's Octane channel as well as a growing number of college and internet radio stations. Christina Doka of AM New York describes the band's music as "a compelling blend of feisty angst and unabashed optimism. They take listeners on a journey that, despite struggles and pain, always ends well."

All proceeds from the performance will be used to provide tuition assistance for Conservatory families. "I'm throwing this show because I believe in the mission of the Conservatory," said Chattman. "I also want to bring great, live New York City-based music to Westchester. Not everyone can get into Manhattan to see a concert. On August 19, Manhattan's music scene is coming to them."

The rock benefit concert will be held in the Conservatory's Helen Demetrios and Michael
Stadther Recital Hall. Tickets are $12 online or $15 at the door and may be purchased in
advance at www.augustconcert.eventbrite.com. For more information, contact Jon Chattman at jon@musiced.org.

The Music Conservatory of Westchester is at 216 Central Avenue in White Plains, NY. A
complete list of programs is available by visiting www.musicconservatoryonline.org. Follow the Conservatory on Facebook (Westchester MusicConservatory) and Twitter (@MusicCW), or check their new blog (www.musicconservatoryblog.org) for the latest news and updates.

About the Music Conservatory of Westchester
The Music Conservatory of Westchester (www.musicconservatoryonline.org) is a non-profit community school of the arts, providing outstanding music, musical theatre, and music therapy programs for all ages and abilities. The Conservatory's 36,000-square-foot facility in White Plains offers a Recital Hall and 43 acoustically designed classrooms and teaching studios – all available to rent. Their comprehensive programs include performing ensembles, musicianship classes, music therapy, student performances, rock band, master classes, workshops, and more.

All students receive free admission to the Conservatory's annual "Live on Central" concert series of faculty recitals and children's concerts. This year, the Conservatory awarded $110,000 in scholarship support and tuition assistance to more than 115 of its students. The Conservatory is chartered by the New York State Board of Regents, a member of the National Guild for Community Arts Education, and is one of only 19 non-degree granting institutions in the country to be fully accredited by the National Association of Schools of Music.