On the holiday weekend there was a fun and free New Rochelle trolley tour about local history. During the tour, tour guide and Habitat for Humanity director Jim Killoran mentioned the Post Rider plaque installed in downtown New Rochelle outside of the HSBC Bank.
The Post Riders delivered messages from the armies in the Revolutionary War. The NY Post ran an article about the Post Road and the Riders on July 4th, linked here: The Road that Paved the Way to Revolution I went to look at the plaque and it was covered in pigeon waste, really awful, almost impossible to read.

It is installed almost horizontally under a tall pylon for the bank. See the photo below. The plaque is installed in the area marked with a green square.

The plaque needs to be power washed and pigeon deterrent wiring needs to be installed at the top of the pylon. See the photos here.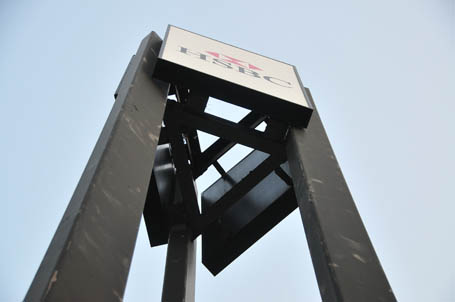 Otherwise, maybe the plaque can be moved and installed on a wall somewhere.
I went back again to really try to read it. This is what it says —
The Post Rider — Dedicated to the memory of those intrepid spirits whose labors promoted settlement and diffused knowledge throughout the land. Erected by the New Rochelle Chapter of the Daughters of the American Revolution 1929
There is also references to the Post Riders in a mural in the Post Office across the street.
It says — "The Post Rider brings news of the Battle of Lexington"
Jim Killoran also mentioned horse grave stones throughout Ward Acres. It all kind of fits together.
I took a picture of the other murals in the Post Office which you can view here.